7th Pay Commission news: Dearness allowance of central employees increased from 34 percent to 38 percent. But, dearness allowance is different for each level of employees. On the basis of basic salary, it is decided how much their DA has increased. Let's see the chart
7th Pay Commission news: Dearness allowance for central employees was announced on 28 September. This announcement was made in the first half of the year 2022 between January and July in the ratio of inflation. The new dearness allowance has come into effect from July 1, 2022. In this, the employees are now being paid DA at the rate of 38 percent. Due to the announcement to be made in September, the employees got DA for 3 months. The payment to some employees is done with the salary of September. At the same time, some will be paid in the salary of October. But, to know how much money increased in which bracket due to the increase in dearness allowance, one must see the DA Hike Table.
DA Hike Table- According to the basic salary, dearness allowance increased by how much
Here is the chart from Level-1 to Level-4. In this, the difference in dearness allowance of those with a basic salary of Rs 18000 to Rs 56900 has been shown in Level-1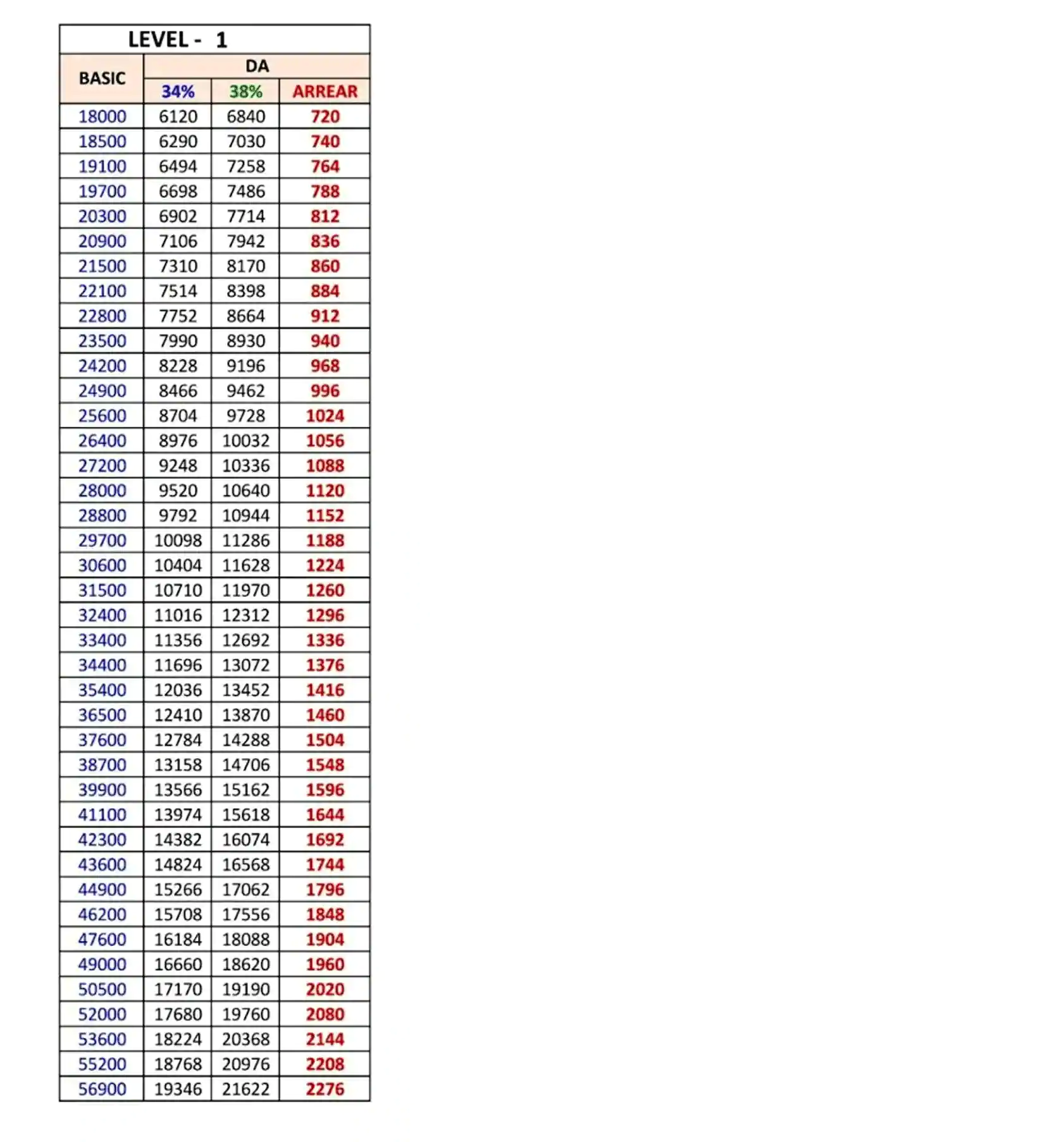 Level-2 shows the payment of dearness allowance in the ratio of basic salary of Rs.19900 to Rs.63200.
In Level-3, the chart of dearness allowance of employees with basic salary ranging from Rs 21700 to 69100 has been given.
At the same time, in Level-4, the increase of dearness allowance has been shown for the employees with basic salary of Rs 25500 to Rs 81100.
In all the tables given above, you or any member of your family can estimate the dearness allowance according to the category in which you fit.
When will the next dearness allowance increase and by how much?
The next dearness allowance will be announced in the year 2023. It will be deemed to be applicable from 1 January 2023. However, the announcement will be made around Holi in March. Under the 7th Pay Commission, its increase in the ratio of inflation between July and December will be decided.
Industrial inflation data will show how much dearness allowance will increase. So far the numbers for July and August have come. As of July, the AICPI index has reached 130.2. At present, there has been an increase of 1 percent in the figures of two months. If this increases even further, then definitely once again the dearness allowance can increase by 3-4 percent.