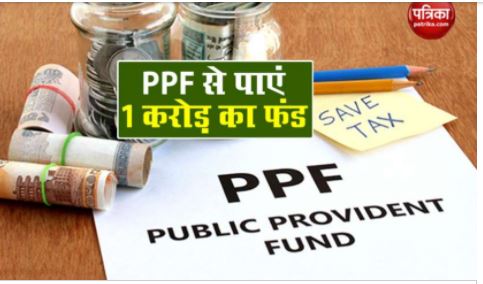 Public Provident Fund: Investing in Public Provident Fund provides interest of up to 7 percent.

The maturity of this scheme is 15 years, it can be increased every 5 years
new Delhi. Everyone saves to secure their future. Saving is essential, especially to avoid problems after retirement, but the dream of becoming a millionaire often remains unfulfilled for employed people. But through Public Provident Fund, PPF, your wish can be fulfilled. By investing in it, you can get up to 1 crore rupees at the time of retirement. So how to invest in this scheme and what is the whole process.




What is PPF Scheme
This is a popular long-term popular scheme. Saving and investing through this is very easy. The scheme offers an interest of up to 7.1 percent. Being supported by the Government of India, it is a very safe investment-wise scheme. The good thing in it is that its returns are completely tax free. Therefore, the maturity amount and interest on it is all tax free.
Also Read: How to Check Your Permanent Labor Certification (PERM) Status
Special features related to the scheme
PPF maturity period is 15 years. However it can be extended further over a period of 5–5 years.
For this extension, Form-H has to be submitted. For example, if the PPF account holder wants to invest for 25 years, the investor will have to submit Form-H twice after 15 and 20 years of opening the PPF account. You can avail income tax exemption on investment of up to Rs 1.5 lakh in any financial year in PPF account.




In this
way, you can make one crore rupees, although there is no limit to the investment in PPF account. Despite this, suppose someone has invested in it for 15 years. So the investor invests 1.5 lakh rupees (Rs 12,500 per month) every financial year. In this case, the maturity amount will be Rs 40,68,210. To raise one crore rupees, you can further expand the account by taking advantage of the expansion facility in PPF. In such a situation, if an investor keeps investing Rs 1.5 lakh every year for 25 years, the maturity amount will be Rs 1,02,40,260 if the rate of interest remains constant at 7.1% for the entire period.




How to open an account
PPF account can be opened in any post office or bank. It can be opened by any Guardian in your name and on behalf of the minor. However, it does not open a joint account. The minimum amount for opening a PPF account is Rs 100. While the maximum investment limit has been fixed at Rs 150,000 per year. These funds can be deposited in a maximum of 12 installments every year or lump sum. Generally after opening a PPF account the loan can be availed from Third Financial. Whereas from the seventh financial year, withdrawals are allowed from each year.