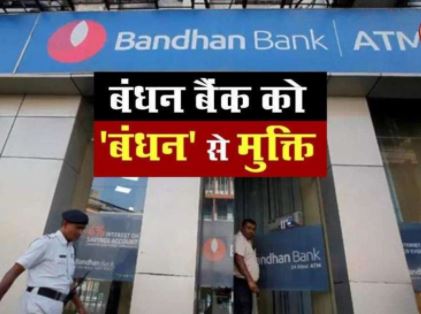 Reserve Bank of India lifts restrictions on salaries of MD and CEO of Bandhan Bank

RBI gave instructions in September 2018 to freeze Salary of Bank MD & CEO
new Delhi. RBI ( Reserve Bank Of India ) removed the lifting curbs on pay, managing director and CEO of the bond bank (Bandhan Bank MD And CEO Salary) . It has been decided to remove the restriction on Salary of MD and CEO after the bank's stake in the promoter (Bandhan Bank Promoter) is reduced below 40 per cent as per central bank norms.




The action was taken in 2018, the
RBI in September 2018 directed to freeze the salary of the bank's MD and CEO by imposing various restrictions on Bandhan Bank. Bandhan Bank was banned in various ways due to non-compliance with RBI's licensing rules for new private sector banks. As per the licensing guidelines, the Non-Operating Financial Holding Company (NOFHC) is required to bring its additional stake to 40 per cent of the paid-up voting equity capital of the bank.
Also Read: Rights of Employees & Employers during Coronavirus Pandemic
Ban
lifted In a regulatory filing, the bank said on Monday that the RBI, through its communication dated August 17, 2020, has also lifted the ban on freezing the salaries of the bank's MD and CEO. Bandhan Bank has said that with this recent decision of the central bank, all kinds of regulatory restrictions imposed on the bank on September 19, 2018 have been removed. The news has come to light after Bandhan Financial Holdings Limited reduced its stake to 20.95 per cent through a block deal earlier this month. Following the deal, the company holds a 40 percent stake in the bank.